High protein cereal is making a comeback. Long gone are the sugar and carb infused breakfast. Protein-focused cereals are the talk of the town.
But which ones are the real deal and which ones are just along for the ride. We personally tried dozens of high protein cereals to bring you the truth.
Let's find out: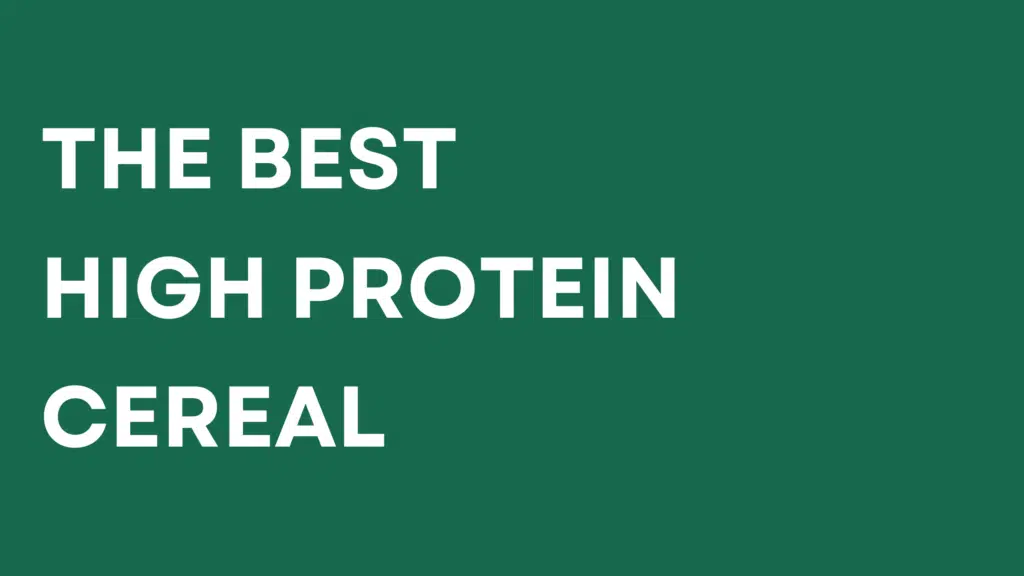 The Difference Between Keto Cereal & Protein Cereal
We have covered keto cereal previously. And while many of these brands will overlap the two categories – it's important to note the difference.
Not all keto cereal is technically high protein and not all high protein cereal is keto.
Keto looks primarily at the carbohydrate ingredient in a cereal. High protein focuses on the protein quantity of a cereal.
We'll break down both and rank cereals both by overall choice and then sheer protein content at the end of the post.
What Counts as "High Protein Cereal" vs "Protein Cereal"?
For our definitions here – we're counting anything over 8g of protein in it as "protein cereal."
After that, anything over 12g of protein we're considering "high protein cereal"
For reference – Honey Nut Cheerios has 3g of protein, so our base level of "protein cereal" should have at least 2-3x more protein than the average cereal you'd pick up off the shelf.
The Best Protein Cereal
When it comes down to it, we think there are basically three players when it comes to "the best protein cereal out there."
Magic Spoon
Calories: 140
Protein: 13g
Carbs: 3 net carbs
Base Ingredient: Whey
Catalina Crunch
Calories: 110 calories
Protein: 11g
Carbs: 14g
Base Ingredient: Pea Protein
Three Wishes
Calories: 120
Protein: 8g
Carbs: 18g
Base Ingredient: Chickpea Protein
The Worst High Protein Cereal – Wonderworks
Wonderworks is a "keto-firendly" cereal that's got 15-17g of protein, but we do not recommend it.
At all.
I am almost writing this post just to talk about this. I got this at my local HEB when I was in a Magic Spoon pinch. How bad could it be? I am always down to try new healthy snacks.
I was so wrong.
This didn't just taste horrible – it downright made me almost sick. I didn't finish the bowl and threw away the box.
Maybe I got a bad box, I'm not sure what happened – but after hundreds of blog posts and dozens and dozens of product taste tests, this one sticks out as one of the worst foods I've come across.
Protein Cereal – Ranked by Highest Protein Content
If you're looking for just sheer protein content – here's our ranked list so far. We'll be adding to this over time.
Please note that some of these protein sources are more bioavailable than others and not all protein sources are created equal. That said, here's your best protein cereal ranked – by protein content and protein content alone.
Post Premier Protein – 20g protein
BariWise Protein Diet Cereal – 15g protein
Wholesome Provisions Protein Cereal – 15g
Special K – 15g protein
WonderWorks – 15g protein
Magic Spoon – 13g protein
Nature Valley Granola – 13g protein
Catalina Crunch – 11g protein
High Key Cereal – 10g protein (discontinued)
Perfect Keto Keto Cereal – 9g protein
Kashi Go – 9g protein
Three Wishes – 8g protein
Seven Sundays Muesli – 8g protein
Other Related Reviews