Whether you're following a specific diet or you're just eating good food, there are some tools that can make your time spent in the kitchen a little easier. You have to start with a well-stocked kitchen – for more on that, check out our list of kitchen essentials. But there's something else that's helpful as well and that's meal prep containers. This post outlines our favorites.
There's no denying that meal prep is one of the most effective practices to reach your health and wellness goals. Whether you're a busy parent, a student, an on-the-go commuter, or anything in between, prepping your food is an incredibly helpful thing to do for yourself.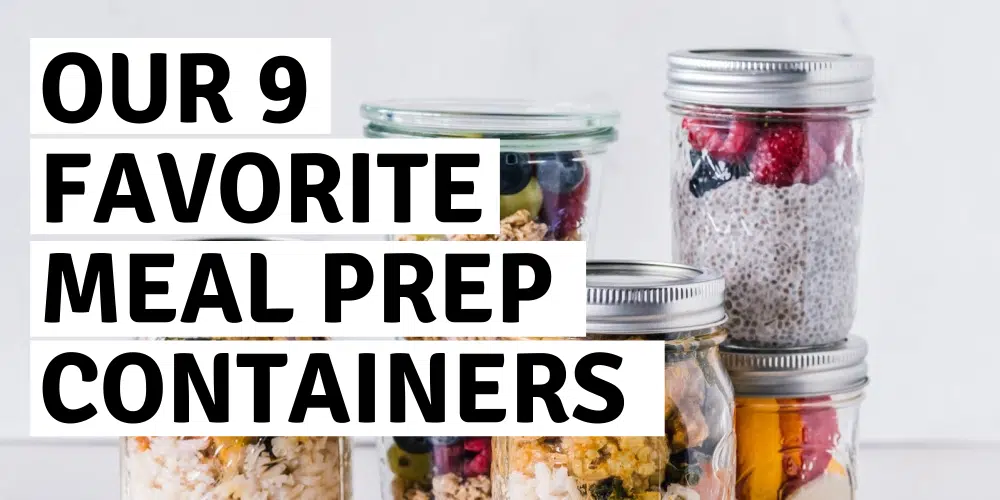 ‍Meal prepping can be as simple or as elaborate as you prefer. For some, simply batch cooking a couple of different protein sources, roasting some vegetables, or pre-cutting fruit works well enough. For others, whipping up a few whole meals is the way to go. Whether it be a hearty stew, a big pot of chili, roasted chicken and vegetables, overnight oats, or whatever your favorite meal may be – meal prepping is definitely the ultimate time saver on busy weeknights.
But what do you do with all that food once it's prepped? You put them in the best meal prep containers on the planet
The Best Meal Prep Containers
You need the right containers. Now, this will most likely depend on the amount of food you're prepping and the way you like to store it. For example, some people like to store their entire meal in the same container while others may prefer to keep the foods separate until they're ready to eat. No matter how you like to do it, there's probably a type that's suited just for you.
In this post, we outline different types of meal prep containers and our favorite brands to snag if you're on the market.
Glass Meal Prep Containers
For me, glass meal prep containers will always reign supreme. They're sturdy, high-quality, easy to clean, and you don't have to worry about any sketchy plastic particles leaking into your food. I also like how glass doesn't stain (like many plastic ones may do) so feel free to load it up with chili or pasta sauce. They're also both microwave, freezer, and dishwasher friendly, so it makes heating up, storing, and cleaning up a breeze.
The potential downside to glass containers is that they can be a little heavier than plastic ones, so if you're packing multiple containers around, be prepared to have a strong bag in which to carry them.
Here are a couple of our favorite brands. ‍
Snapware Pyrex Glass Food Storage Containers
Price: $29.99
Quality: A+
To me, these are the GOAT. I've had my set for almost five years now and they're all still in great shape. I've never experienced a leak, and if any of them have chipped, they've been minor. The range in container sizes is also right up my alley and fulfills all my food storage needs. For the price, I really think this set can't be beat.
Details:
Includes: 9 containers (with lids)
Material: Glass
BPA-free‍
FineDine 24-Piece Leak-Proof Glass Storage Container Set
Price: $29.99
Quality: A+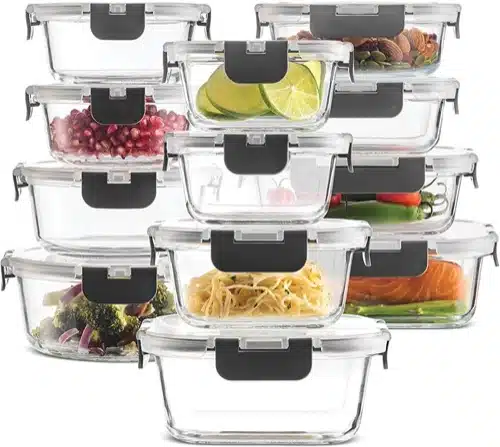 Numbers don't lie and with over 23,000 reviews, this is clearly a top contender on Amazon. We love this set because of the variety of sizes you get with your purchase. There are 12 total containers – all with leak-proof lids – for every type of storage need you may have.
Details:
Includes: 12 containers (with lids)
Materials: Glass
BPA-free
Plastic Meal Prep Containers
Here's the deal – I personally wouldn't recommend choosing plastic meal prep containers. We all know by now that plastics are not beneficial for the environment, and we really should be taking all necessary steps to reduce our plastic usage in our day-to-day lives. Not only that, I've personally found that plastic meal prep containers don't have long shelf-lives. The plastic body or lid ends up cracking, they become stained, or they get warped in the microwave.
Of course, plastic containers can be much lighter in weight than plastic or stainless steel and that can be appealing for people who are carrying their meal prep containers in their bags throughout the day. In a plastic container, I'm looking for quality and durability. Cute colors don't hurt either! Here are our recommendations. ‍
Chef's Path Plastic Food Storage Containers
Price $28.87
Quality: A
‍These are similar in operation to the glass snap-top lid containers, but the actual container is plastic instead of glass. This brand has over 6,000 reviews on Amazon with 76% of the ratings coming in as 5-star. While this is a 16-piece set, the containers are small-to-medium sized so if you're looking for larger containers, you might want to skip over this set. But otherwise, these lightweight plastic containers should do the trick for your meal prep needs!
Details:
Includes: 16 pieces
Materials: Plastic
BPA Free‍
Kitchen + Home Thin Bins Collapsible Containers
$19.99
Quality: B+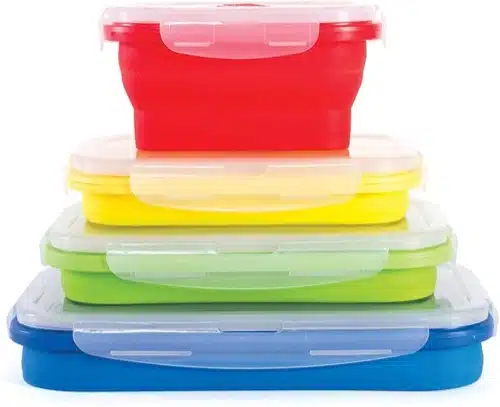 These collapsible rectangular containers are made of silicone and great if you're looking for a super lightweight option. They also collapse and are a great spacesaver in the fridge or if you live in a small space. I would not recommend storing aromatic foods in these, though, as the smell may be hard to wash out — but these are a good option for fresh fruits, veggies, etc.
Details
Includes: 4 pieces
Materials: silicone
BPA Free
Stainless Steel Meal Prep Containers
Out of all the meal prep container options on the market, I love the way that stainless steel containers look. Stainless steel also provides an easy clean-up experience and the quality is top of the line. While there may not be as many options as there are for glass and plastic containers, there are still some great contenders on the market. These are our favorites. ‍
Tramontina 3-piece Stainless Steel Meal Prep Containers
Price: $36.89
Quality: A+
A 3-piece nesting set, these containers have a polished stainless steel look with plastic lids. There's even the option for clear lids or colored lids in fun colors. Feel free to keep any type of food in these containers with no lingering smell and easy clean up.
Details:
Includes: 3 Pieces
Materials: Stainless steel‍
Ecolunchbox Three-in-One Stainless Steel Food Container and Lunch Box
Price: $32.99
Quality: A-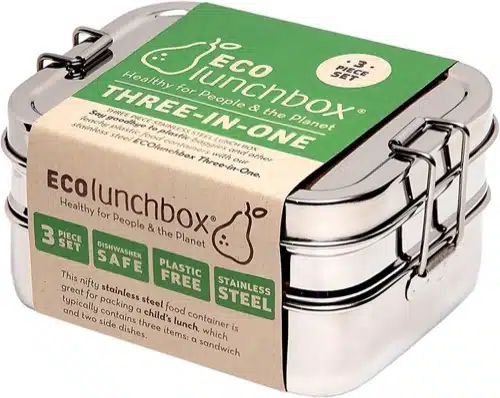 This is a really cool container. This single container is classified as a stainless steel "nesting stack pod" and it can hold up to 4 cups of food. This would be a good option if you're carrying your food on-the-go often although it's recommended that you don't keep wet food in this box as it could leak.
Details:
Includes: 3 Pieces
Materials: Stainless steel
BPA Free
Fun Meal Prep Container Options
Sometimes you just want something that's a little more…fun. If you're looking to step outside your traditional meal prep box, check out these options. They're funky, but functional, and can bring a little bit of spice to your meal prep game! ‍
Expanded Double Bento Box by Takenaka
Price: $37.99
Quality: B+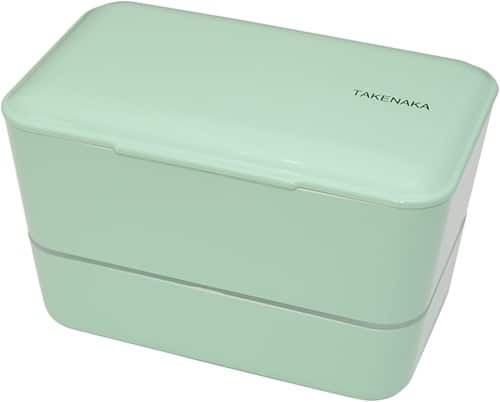 I love this bento box! It's expandable so you can use it as a single or double-decker container. The top tier fits into the bottom one for easy and compact storage. You will need to keep this container upright or filled with non-liquid foods as it can leak if it tips over onto its side.
Details:
Includes: 1 piece
Materials: Plastic
BPA Free‍
Tastemade Prepd Packed Lunch Box Set
Price: $59.00
Quality: B+
Cool Factor: 10
This set is a little bit of an investment – but it's just so cool that I couldn't leave it off our list. The Lunchbox includes an outer case, 1 large container with sauce pot for dressings and sauces, 2 small containers, and even includes a magnetic fork, spoon, and knife. This is dishwasher, microwave, and freezer safe and is made from food-safe plastic material.
Details
Includes: 1 large container and 2 small container
Material: Plastic
BPA Free‍
Stasher Silicone Food Storage Bag
Price: $12.09
Quality: A+
Verdict: Just get these – trust us.
‍Any serious meal prepper should have a few stasher bags on hand. These are so incredibly easy to throw in your bag on a long, busy day or even take on a plane! I love storing fruit, cut up veggies, snack-type foods, and even cereal in them. Do yourself a favor and grab one (or three) to make meal prep storage even easier.
There you go! Those are our favorites. Did we miss any? Let us know your favorites in the comments.
Details:
Includes: 1 piece
Materials: Platinum silicone
BPA Free
Other Meal Planning + Meal Prep Resources
If you liked this post, you might enjoy some of our other meal prepping resources